A Blast From The Past!
Posted 9th September 2020
This past week Severn Lamb had the privilege of connecting with the most recent owner of a 6" (Half Size) Traction Engine built buy us for a client back in 1974! This blast from the past is in perfect condition after only recently undergoing a boiler re-tubing for the first time in nearly 50 years!
The latest owner Guy Champion was interested in having a unique build plate made for his engine, having seen one on a Rio Grande train we manufactured for a client in Weymouth. These build plates where never issued to our Traction Engines but we where happy to oblige, given the heritage and nostalgia of the enquiry.
The half size engine that Guy owns was based on the Allchin "Royal Chester" built in 1925, works No. 3251. This 1974 engine was one of two built that year for Mark Bamford (JCB Fame) and featured on the front cover of "Model Engineer" in February 1975 and in an article as they were road tested for the first time at the Severn Lamb works. It was commented about the size of the engines because back in the 1970's half size steam engines were not very common.
Model Engineer Article: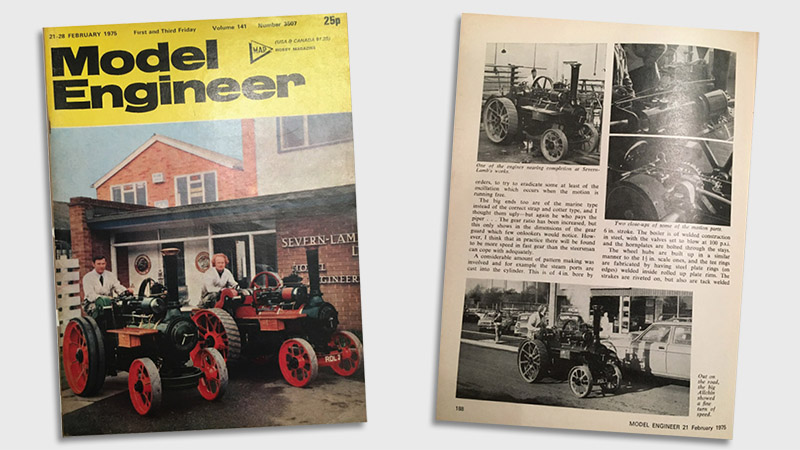 It was later sold into a private collection before being bought by Mr D Plant from Cirencester in the 1980's. Following that ownership It was purchased by the Hill family in August of 2001 who gave the engine the name "Pride of Pewsey". Finally, Guy purchased the Allchin in September 2016 after "down sizing" from a full size Aveling Roller. It regularly attends many local shows and visits Great Dorest Steam Fair annually.
Its brilliant to see such a wonderful piece of Severn Lamb history still being enjoyed and looked after to this day and speaks volumes for the build quality and design that is still going strong nearly 50 years later!
New "1974/007" Build Plate: