Southend Pier Train Unveiling
Posted 2nd March 2022
Last week The Prince of Wales and The Duchess of Cornwall officially unveiled Southend Pier's new eco-friendly train. This was a truly special day for a truly special project!
The first of two trains to hit the pier, has been named after the late Sir David Amess, MP. This touching tribute was announced on the same day Southend Borough Council officially changed to Southend City, something Sir David had been campaigning for throughout his career.
Their Royal Highnesses (TRH) attended the pier on Tuesday 1st March 2022, no less than 36 years after Princess Anne, had unveiled the first Severn Lamb trains, which hit the pier in 1986. Needless to say, we were honoured to have the next generation of our pier trains presented to the public by the Duke and Duchess themselves.
Its not very often you can look back in the archives and see two generations of product evolution being delivered to the same client. The news cuttings featured below show the moment our trains started to arrive on site decades apart from each other. It's now time to set our sights on the future and the latest rolling stock, providing the pier with years of honourable service to come.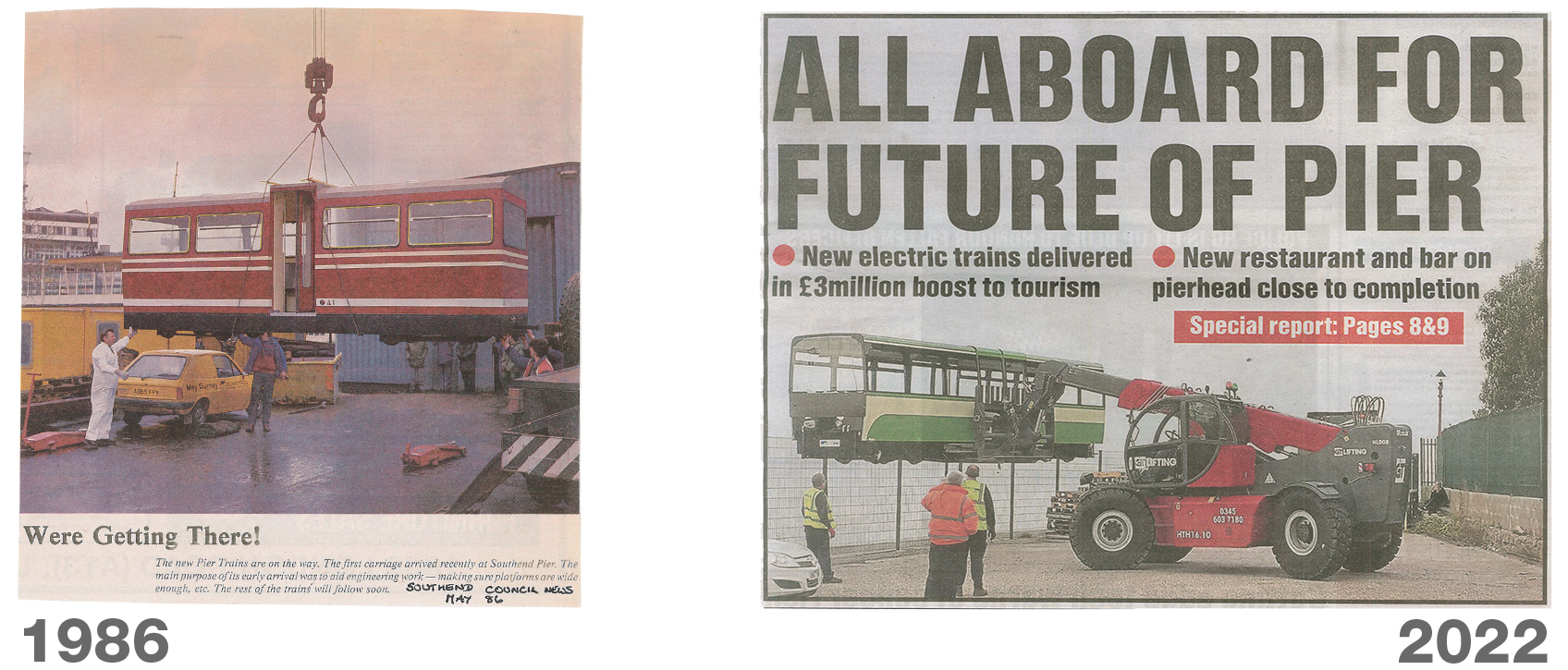 The decision to retire the two diesel trains first came to our attention, back in 2019. As they neared their end of life, Southend Pier initiated a public tender for the design and manufacture of their trains for the future. With a focus on being eco-friendly and in line with their efforts to become carbon neutral, this criterion mirrored our company goals and product development that had been in progression for a number of years already.
We were delighted to respond to the calling and subsequently were awarded the contract for the new 21st century trains, with our clean sustainable drive system and latest guest experience technologies. Despite having supplied their previous rolling stock, it was our development, design and innovation within the proposed train that eventually sealed the deal.
Our self-contained drive system, has no requirement for rail electrification, overhead catenary, or onboard power generation, utilising an efficient, economical, and environmentally friendly, Battery Electric powertrain. Over time we have refined this systems integration within our product range with almost all our current projects and enquiries now utilising "clean engine" power solutions.
Many of the features on our trains may seem commonplace on mainline rail but are a first for trains of this size and scale. Features such as, automated doors, programable internal and external LED illumination, passenger USB charging sockets, location-based GPS audio and visual multimedia experiences alongside our state-of-the-art remote diagnostic systems, are all integrated into the tightly packaged trains.
They are now set to serve visitors to the pier for years to come and will be in service and open to the public very shortly. It's our pleasure to have been providing the pier with visitor transportation for all these years and long may the relationship continue.
We'd highly recommend getting down to the south coast this summer and experiencing them for yourself. To stay up to date with our products or make an enquiry, please visit our website www.severn-lamb.com or feel free to reach out to us at sales@severn-lamb.com for more information.